GUEST POST
Don't you love it when a character jumps off the page? Me too, and when it happens, you can bet one reason we adore or abhor such characters is because their authors have carefully crafted language that helps us see and feel the inner working of their minds. They have each been given a distinct and intriguing voice.
When I mustered the gall and fortitude to begin my first novel, Come Back, I felt overwhelmed by all I didn't know. I had no clue where the story might lead, but I did know that if I waited till I knew how to write a novel, I'd never write one. And I knew that my starting point had to be getting to know my characters.
I met Vi in an earlier story I wrote and wanted to know more. What if she went back to where her story started – savvier now, healed in many ways, but still lugging baggage she wanted gone? Who would be there? How might they shape her future?
I needed some basics - names, ages, relationships to Vi – but as soon as I settled on those, I knew I'd learn the most from walking around in each character's shoes. They got willful right away, demanding the chance to tell their own sides of the story. Choice made: first-person, multiple points of view.
They continued to be demanding, these characters I dreamed up, and I owe them a big debt. Come Back characters taught me to use the power of voice to express individuality and drive. They did not find me a quick learner. "You make me sound like an idiot," Ben said. "You, with your feminist ways, are judging me," said Tammy. "I sound too much like you," Vi protested.
Ah, there was the rub. In early drafts, they all sounded too much like me. So, they assigned the task of tuning my ears to real-life conversations until I heard personal histories and inner selves leaking out in people's language. They pushed me to hear attitudes that gleaned small glimpses inside others' heads. "Don't get cocky," they warned. "Even in fiction, a glimpse is all you'll get. We humans are far too complex to be fully knowable."
Once my ears were tuned, their voices beat their drums at higher volume. One thing I heard Ben and Tammy's sloppy grammar. Aha. They were too focused on themselves to have paid much attention in school. Vi and Nate, on the other hand, spoke colorfully but with precision as befit their chosen life's work. This difference alone impacted each character's voice. (By the way, I did pay attention in school, so I cringed often as Ben and Tammy spoke!)
Do these four and the other folks of Freedom, Iowa leap off the page? Only you, the reader, can say. What I can say is that Come Back characters propelled me to use the power of voice to prod, pry, and push them to jump. Did I shove hard enough so they'll land squarely in readers' hearts and minds? I hope you'll let me know!
Date Published:
September 2017
Vi Masters wonders…can you come home again? More, she wonders why anyone would want to. She fled upright, backwater Freedom, Iowa at seventeen and hoped never to return. But this time, she can't stand up against the pleas of the aunt who raised her. It's one weekend. How bad can three days be?
Three measly days in a wonderful eighteen-year marriage – that's what Vi's stepmother hopes. But what if Ben discovers what Tammy knew about why his daughter ran away – something he seems determined to finally find out? She can't be sure Ben would forgive her, and that's got Tammy scared to her bones.
One day in and Vi has to face how Aunt Sadie is failing, Caregiving will surely wreak havoc on Vi's hard-won career, but how can she not? At least she might be able to turn the party Sadie's planned into a night even Alzheimer's won't let Sadie forget.
But that's before Vi finds out Nate Barlow has moved back to town. Now after all she's already survived, Vi must dig deep for courage. Nate will never be able to accept Vi's past. Will he? Who knew hope would be so scary?
EXCERPT
I slumped back and let myself swing back and forth. Sobs subsided into staccato bursts. My head filled – not the last dreadful hours – but the honeyed scenes that stabbed to my core.
I was so young,
I thought. So young and so in love. And it seemed like maybe – just maybe – I wasn't alone in love. Oh that kiss. That sweet, sweet kiss.
Rage came in hot, fresh spurts. Damn JT! Damn him. He had no right. Old news. Now I saw mine was maybe not the only life he stole. Damn him. He had no right to plunder such bright and hopeful sweetness.
Some sane calm voice – not mine, surely not mine – sounded in my head. "Why this fresh fury, Vi?"
I didn't know! I didn't see what he took from me!
"Didn't you? I wonder why?"
Not Ruby. Ruby would grab and hold on. Opal? No doubt. Opal never offered sympathy. She relied on damned calm sanity. Slow down and let your own sanity kick in.
I breathed deep. All right. Why does this pain and rage pierce so deep? Why now?
The scene of the crime,
I thought. Of course I feel it more here.
"Justifiable." The Opal in my head nodded. So much for sanity. "Atta girl," she said. "When you start to laugh – even a little – sanity's not far behind. But you know that's not the whole story."
Oh dammit, Opal. I don't know.
Okay! I never let myself think about Nate. That night. Before.
"No. You never did. Because…"
Because it hurt too much! It hurts too much now!
"I know it hurts. But not too much. Not more than you can handle now."
Handle? Christ, I can't handle this.
"Sure you can girl. And you will. Starting now."
Heavy footsteps on the playground gravel replaced the voice in my head. I turned away, dashed hot tears from my face, until a big hand grabbed at the swing's chains just above my head.
Oh shit. Just what I need right now.
Ben.
About the Author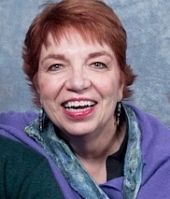 Sally Crosiar lives in the Finger Lakes of New York State where she reads incessantly, enjoys time in and on the water, savors dark chocolate with red wine at every opportunity, and teaches about health and play for Empire State College. She is the author of Find the Love of Your Life, based on her own true story, My Uncle Dave, a children's book with an adult message, and co-author with Dr. Sidney B. Simon of Love Builders: Tools to Build Every Relationship. Come Back is her debut novel.