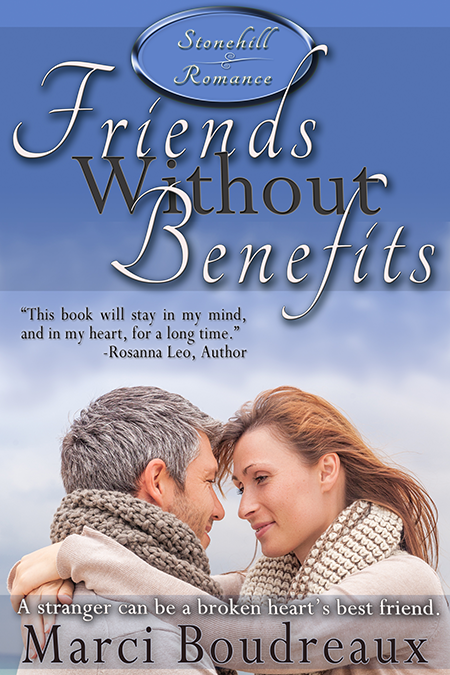 Title: Friends Without Benefits
Series: Stonehill Romance Book 2
Author: Marci Boudreaux
Genre: Contemporary Romance
Published: July 10th, 2015
Formats Available: Mobi, ePub, PDF
Synopsis
Dianna Friedman never expected her husband to leave her. Who does? But she's making the most of what she has left–a sarcastic near-grown son and a mountain of bills that just keeps growing. She's in over her head, but she is determined to survive.
Even if everyone else saw it coming, Paul O'Connell was blindsided by his wife's affair and attempt to bleed him dry. He reaches out to Dianna–the woman who caught their spouses cheating–in hopes that her testimony at his divorce hearing will prevent him from paying alimony.
Dianna and Paul become fast friends and maybe a tad bit over-dependent on each other, but who are they hurting? No one. At least not until Dianna's life takes yet another unexpected twist and she and Paul have to step back and reevaluate everything…including what they mean to each other.
REVIEW
This book captured my attention right away.
It is very well-written with believable dialogue and emotions.
The narrative flows with passion as the main characters experience heartbreak and then somehow find the courage and gumption to move on.
It's a process, and I felt the author conveyed the ups and downs and insecurity with compassion.
I particularly liked that Dianna and Paul were not afraid to do a lot of soul searching, and used the time of grief and, in Dianna's case financial adversity, to throw off some of their old, negative habits and slowly recreate themselves into stronger people with more balanced and stronger personalities. I also liked that not everything was easily resolved. Some issues required more work and even harder determination – none of the characters were perfect. I had a hard time relating to Dianna's tears with each new blow she faced, but I had to respect her grit and stubborn resolve to keep trying in spite of everything.


I also really liked that both Dianna and Paul retained a sense of humor that would sometimes surface at odd moments. That made me love them both all the more and cheer their topsy-turvy progress. Yet another aspect of this book I really enjoyed was Paul's backstory and his nosy, bossy siblings.


If you enjoy character driven novels about human emotions and family relationships this book is one that you should read.


This book was provided to me in exchange for my honest review.


Reviewed by Laurie-J
About the Author
Marci Boudreaux lives with her husband, two kiddos, and their numerous pets. She recently hung up her journalism hat to focus on content editing for several publishing houses, as well as writing.
Romance is her preferred reading and writing genre because nothing feels better than falling in love with someone new and her husband doesn't like when she does that in real life.
Click any image below to see details