JO'S WRITING TIPS
Every writer will have their own unique style of working and one style does not fit all, so I can only give tips based on what I find helpful to me.
Before sitting down at your computer, always have an idea of what you're going to write. It can be a loose plan, but always a plan. Otherwise you just won't know where to start.
If the writing just doesn't come and you feel stuck, stop and take a break. There is no point trudging through the pain in the vain hope that inspiration will come to you if you do, because chances are it won't. Go for a walk, go make yourself a hot drink, but have a change of scenery to regroup and rethink. I always find a walk and a breath of fresh air sorts me out.
I tend to have a one thousand word limit a day. If I write that amount of words and am happy with what I've written then I stop and do something else that I'd really like to do, like go clothes shopping or for a swim or even to meet up with a friend if they are free. Occasionally, if the writing is really flowing, I do continue beyond the thousand words, because there's no point stopping if it's coming easily. But I find that if I write much more than 1.5k words then they usually aren't 'good' words.
Focus. There's no point trying to write if there are distractions around. Be somewhere quiet and people-free.
My background is as a television reporter, so I tend to think in pictures. Whenever I write I often close my eyes to imagine the scene and literally embody my characters – living and breathing their moment. It's the writing equivalent of Stanislavski's 'method-acting' technique.
ABOUT WEAK AT THE KNEES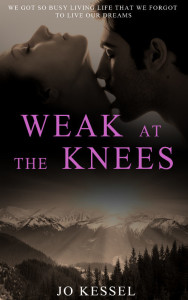 Title
: Weak at the Knees
Genre:
New Adult Contemporary Romance
Author
: Jo Kessel
Publisher
: CreateSpace
Pages
: 292
Language
: English
ISBN-10
: 1490397604
ISBN-13
: 978-1490397603
"We got so busy living life that we forgot to live our dreams."
Danni Lewis has been playing it safe for twenty-six years, but her sheltered existence is making her feel old ahead of time. When a sudden death plunges her into a spiral of grief, she throws caution to the wind and runs away to France in search of a new beginning.
The moment ski instructor Olivier du Pape enters her shattered world she falls hard, in more ways than one.

Their mutual desire is as powerful and seductive as the mountains around them. His dark gypsy looks and piercing blue eyes are irresistible.

Only she must resist, because he has a wife – and she'd made a pact to never get involved with a married man.

But how do you choose between keeping your word and being true to your soul?

Weak at the Knees is Jo's debut novel in the new adult, contemporary romance genre – a story of love and loss set between London and the heart of the French Alps.




ABOUT JO KESSEL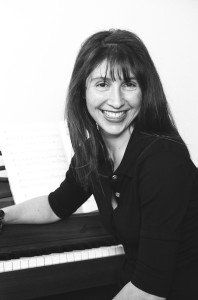 Jo Kessel is a journalist in the UK, working for the BBC and reporting and presenting for ITV on holiday, consumer and current affairs programs. She writes for several national newspapers including the Daily Mail, the Telegraph, the Guardian and the Express and was the anonymous author of the Independent's hit column: Diary of a Primary School Mum.
When Jo was ten years old she wrote a short story about losing a loved one. Her mother and big sister were so moved by the tale that it made them cry. Having reduced them to tears she vowed that the next time she wrote a story it would make them smile instead. Happily she succeeded and with this success grew an addiction for wanting to reach out and touch people with words.
P.S Jo's pretty certain one of her daughters has inherited this gene.
Other books by Jo Kessel include
Lover in Law
.
Her latest book is the new adult novel,
Weak at the Knees
.
Visit her website at
www.jokessel.com
.
Connect & Socialize with Jo!
Pump Up Your Book and Jo Kessel are giving away a $100 Amazon Gift Card & a French Gift Basket of French gift basket that includes a whole lot of goodies associated with the book, including a bottle of Châteauneuf-du-Pape, a famous wine from the Rhône wine region of southeastern France!
Terms and Conditions:
By entering the giveaway, you are confirming you are at least 18 years old.

One winner will be chosen via Rafflecopter to receive one $100 Amazon Gift Card and one winner will be chosen to win the gift basket.

This giveaway begins October 7 and ends January 18.

Winners will be contacted via email on Monday, January 20, 2014.

Winner has 48 hours to reply.
Good luck everyone!
ENTER TO WIN!