An Interview with Meg Barnes from Down and Out in Beverly Heels
Down and Out in Beverly Heels
tells the story of Meg Barnes, a beloved actress who has it all and loses everything -- and ends up living on the streets of tinsel town in her Ritz-Volvo -- thanks to her newlywed con-man husband. The novel is a fun, light-hearted romance, taking us into the Hollywood social swirl, but also delves into the gritty truth of what it is to be "homeless and hiding it" in one of the most glittering, fashionable cities in the world.
Where do you dream of traveling to and why?
There are times when I sit in my "Ritz-Volvo" late at night, nesting at the curb of an upscale neighborhood street, hoping I'm not going to be rousted by parking enforcement because I'm in a permit only zone. I can't afford to pay the fine, much less scout out a safe stopover for the night. I sometimes lull myself to sleep dreaming about being on an overnight flight to Paris and waking up to the smell of real café au lait, croissant and the morning scent of one of the world's great cities coming to life. Life is very different for me these days, but dreams are free… and sometimes they come true.
Tell us about your family.
I grew up on a farm in Nebraska and fled to New York to study acting before the ink was dry on my high school diploma. I was in all the school plays and had my parents' enthusiastic support to follow my bliss in the big city. My kid brother, the spitting image of my father, considered taking over the family farm when my Dad passed away, but he's now married, living in Minneapolis with three children and owns a nursery. We're close, but could not be more different… he's shy and could not imagine speaking in public, much less acting on stage. My mother dreamed of a singing career once, but settled for the church choir where she performs an occasional solo. She's thrilled I pursued an acting career… even more thrilled that I once met Andy Williams at a dinner party.

What was the scariest moment of your life?
I recognized the danger I was in the moment I finally confronted my husband, knowing that the man I'd considered the love of my life was a fugitive conman capable of killing me without a second thought. He'd pledged to care for me in sickness and health, but he had made that promise with the full intent of destroying me and robbing me of everything I'd worked so hard to achieve. I hadn't really known the man at all, which meant I had no idea how he would react seeing me again. He certainly wasn't the man I thought I'd married. It took every shred of courage and will power to stand my ground and ask him why he'd turned to crime when he had the talent and ability to make a great success of his career legitimately. He had my full support, encouragement and love, yet he turned his back on the wonderful life we shared. I have no regrets about putting myself in harm's way. I couldn't have lived with myself if I hadn't confronted him when I had the chance.
As a child, what did you want to be when you grew up?
An actress, of course! I organized plays, parades and shows of every sort with the neighborhood kids. I loved stories and acting them out… once I knew that I could have a career playing pretend, I never looked back!
What are your favorite TV shows?
I'm nuts about the classics: "I Love Lucy," "The Honeymooners" and "The Lone Ranger"! I once met the actor, Clayton Moore, who played the Lone Ranger and I was completely star struck. These days I can't get enough of "Downton Abbey."

What are you passionate about these days?
I want nothing more than to redeem myself in the eyes of my family, friends and colleagues who have seen me lose everything, including my livelihood and self-respect. Even among those who knew me well, some thought that I may have been in on my husband's scam that cost them dearly, too. I wasn't the only one my conman husband targeted. I may have lost the most, but he also bilked my friends and colleagues, and they don't forgive and forget when their savings and retirement benefits vanish into the pocket of a conman. Madoff destroyed lives… and my husband did the same. If I could repay those losses, I would. My greatest passion is to restore my career and regain my livelihood, finding the redemption that will allow me to go on with my life.
If you could apologize to someone in your past, who would it be?
Oddly enough, my brother. He must have found it difficult to live with an outgoing sister who attracted attention and ate it up. I'm not sure I was always sympathetic to his self-consciousness in public. He hated even saying "here" during roll call. I was always urging him to take part in things, speak up and put himself forward when he didn't have the self-confidence or inclination to do so. As close as we were, I don't think we had a clue what made the other tick. I'm perhaps not as brash as I once was, and he is more assertive and comfortable in public, which is a win for both of us.
Who should play you in a film?
I'm an actress… I would want to play myself! But let's be sensible… to open a big budget feature these days, only an actress of the caliber of Sandra Bullock, Jennifer Aniston or Drew Barrymore would even be considered, and I would be proud if any of the three wanted the role of Meg Barnes!
What is something people would be surprised to know about you?
I realize I am probably a Girl Scout at heart. Aside from my inclination toward loyalty and camaraderie, I'm also self-reliant and resourceful. I may never have been truly aware of this without the calamitous fall that stripped me of everything I owned and valued. I can manage to survive under the most primitive of conditions, believe me! With little between me and starvation, and no roof over my head that didn't come with four wheels and a dashboard, I somehow survived. The real surprise is that I almost enjoyed meeting the challenge! I would have preferred my old lifestyle, but it was good to discover that I didn't actually need it.
You just won a huge lottery what is the first thing you'll buy?
Are you kidding???? I'd repay all the losses anyone incurred at the hands of my husband and treat everyone who stood by me to whatever they needed and wanted. Then I would treat myself, not just to small luxuries but to the real prize… comfort and security.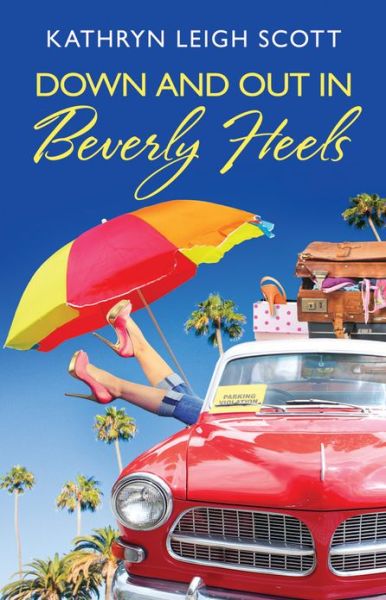 ABOUT DOWN AND OUT IN BEVERLY HEELS
Meg Barnes, a beloved actress for her role as TV detective Jinx Forgarty, has it all but thanks to her newlywed con-man husband, loses everything and ends up living on the streets of Tinsel Town in her Ritz-Volvo. This fun, light-hearted romance takes us into the Hollywood social swirl, but also delves into the gritty truth of what it is to be "homeless and hiding it" in one of the most glittering, fashionable cities in the world. It's also a story of redemption with a "Thelma and Louise" twist as Meg, incorporating skills she learned as a TV detective, tracks down her fugitive husband and struggles to regain her reputation, career and friendships.
Purchase your copy at
AMAZON
.
Actress Meg Barnes, homeless and living in her car, hopes to spend the night in a safer place than parked at the curb of a local park for the night. She needs a good night's sleep because she's got a job guest-starring in a TV pilot.
I park up the street in a cul de sac off the main road. Then, my overnight bag slung on my shoulder, I slip through a break in a boxwood hedge. In the shadow of a sycamore tree, I pause, listening to the sounds of the night. The lights are off in Marjorie Singleton's house, my benefactor tucked in for the night. I don't know Marjorie well, though whenever I voted, it was in Marjorie's clean, spacious garage, her Bentley parked on the street to make way for a bank of polling booths on election day. I'm sure Marjorie, if she knew, would be only too happy to extend a neighborly welcome to me.
It's Wednesday: Marjorie's son, who lives in Encino, is home with his family and won't stop by again until Friday afternoon, when he'll bring her Chinese takeaway. I know the rituals; I've watched Jake Singleton come and go. This is a safe night, and all is quiet.
I follow the flagstone walkway around the swimming pool, past the rose bed, and turn the knob on the side door to the garage. It's unlocked, as usual. Inside, I slip quietly along the west wall to the workbench Marjorie's long-dead husband built, and set down my carryall. I plug my laptop and cellphone into a wall outlet to top up, then move through the darkness to Marjorie's Bentley. She rarely drives it anymore.
I toss my sleeping bag into the back seat. Tonight I can pack in a good six hours and be gone before the gardeners arrive. On those nights when I've had to spend the night in my own car, I remain fully clothed, doors locked, windows open no more than a finger-tip wide.
Usually I find a spot on the street around Holmby Park, the gates to Aaron Spelling's mansion within spitting distance. Should his ghostly presence be hovering above his former abode, I can imagine his bemusement seeing me camping out a stone's throw from his old bedroom window. I still get residuals from his shows, blessed checks from repeats of mindless fluff that pay my car insurance and buy me another month at the health club. But those nights parked on the street, hiding under spread newspapers, even with the tinted windows, are the tough ones, the only time it really hits me that I'm homeless.
More accurately, I am without a home. I am not actually a Homeless Person. I always manage to have a roof over my head, even if it comes with four wheels and a dashboard. I'm not a bag lady, a bum. I'm not a thief, though I suppose I've stolen a few pennies' worth of kilowatt juice from Marjorie. But the back seat of an old lady's car is only temporary accommodation, not Home, Sweet Home. I awaken too often in the night, dozing more often than sleeping.
I slide my legs deeper into my sleeping bag and hug my arms for warmth, trying to stop the rat-wheel of worry spinning in my head. I am far from complacent about the fix I'm in, yet I manage to drift off in welcome sleep.
Moments later—or is it hours?—I'm fully awake and alert, every fiber of my being a listening device. What is it? What did I hear? My heart bangs in my ears as I strain to sort out the sounds. The irrigation system kicking in? A squirrel on the roof?
Hearing footsteps falling softly on the flagstone walk, I slide free of my sleeping bag. Who's coming for me? Who in hell knows I'm here? My fingers close around a small can of pepper spray. I don't even know that the aerosol works. The container is old and I've never had occasion to test it.
The garage door scrapes open. A beam of light arcs across the windshield. A male voice booms. "C'mon out. Now!"
… It's my Margot Kidder nightmare, a "caught-in-the-headlights" shot of myself disheveled, my arms clutching a sleeping bag, splashed on the cover of a supermarket tabloid:

"Former 'Holiday' Star Down and Out in Beverly Hills!"
Tears sting my cheeks. Wouldn't the paparazzi love this shot? Jinx, face puffy, mascara smudged, lurking in someone's garage. I press my forehead into my sleeping bag, recalling poor Margot, missing her front teeth and in need of meds, cowering in someone's backyard. What's my excuse? If I'm busted now, it's the end of my job next week, the end of pulling myself out of this confounding mess I'm in.

ABOUT KATHRYN LEIGH SCOTT
Kathryn Leigh Scott is an actress, probably best known for creating the roles of Josette DuPres and Maggie Evans, the love interests of vampire Barnabas Collins in the cult classic TV show "Dark Shadows."
Down and Out in Beverly Heels
is her second work of fiction. Scott wrote Dark Passages, a paranormal romance, with more than a passing nod to the '60s soap and she appeared in the Johnny Depp/Tim Burton film Dark Shadows last year.
Scott is currently at work on a sequel to Down and Out in Beverly Heels.
To learn more about Kathyrn, please visit
www.kathrynleighscott.com
.
Connect & Socialize: