ABOUT BUZZARD BAY
Murder, drugs trafficking, kidnapping and betrayal are the detonators that set Bob Ferguson's explosive thriller
BUZZARD BAY
into motion.
The tale begins on a cold winter night in a remote area of Canada. Five assassins surround an old farm house. They have already made four kills and this one seems as routine as the others. But then a dog barks and the murderous plan is suddenly disrupted. In a breathless chase over the next two days, three of the assassins lie dead, including their leader. Eventually, the only assassin to escape is a man named Henekie. He had vowed to kill the man they missed and knew someone who would be willing to pay him to do it. He heads back to Germany to find that contact.
The killers' target is Bob Green, a Canadian farmer who needs some serious funding to keep his business operating in the black. A solution seemed to materialize when Bob joined the other assassination victims to work on a farm project in the Bahamas touted as "the opportunity of a lifetime." Bob and his wife, July, had spent a blissful honeymoon in the Bahamas, so he is happy to return to his paradise with the promise of making money. But paradise turns deadly when his fellow workers discover that the project is just a front to keep an airstrip open to be used as part of a cocaine distribution route from the islands. Now, the Canadians are being eliminated one by one after being sent back home, and someone is holding July in the Bahamas. Bob must get back to the Bahamas to find her.
The suspense mounts as Bob sets out to rescue his wife and set things right. To do that, he must agree to a CIA plot to go underground and pose as a well-known drug dealer thought to be dead. His decision puts both July's and his life at stake.
Bob Ferguson
's
Buzzard
Bay
gives readers all the adventure and thrill they could ask for in this unputdownable read.
The Story Behind Buzzard Bay
by Bob Ferguson
When I visit places like Paris or London or New York, I wonder what would have happened to me if I had been born there. I was born about as far away from these places as you can get, on a small farm in Northern Saskatchewan, Canada. This remoteness gave me my great imagination and sense of adventure. I could not have written this book without including something about this part of my life.
It was when my wife and I went to look at a project in the Bahamas that the basis for this story began forming in my mind. Much of the economy in the rural islands of the Bahamas had been fueled by the drug trade. We had been contacted by a man who was trying to help the people on these islands by starting a farm project so the locals would have another means of employment.
This project was on Andros Island. It is the biggest of the Bahamian Islands in the Bahamas located close to the capital, Nassau and about one hundred and forty miles from Miami. On this piece of property we found an airstrip that had ditches plowed across it. We thought this airstrip would be beneficial to the project so we asked the local government officials if the air strip could be rehabilitated. The answer was a resounding no.
Without the airstrip we decided the project was not feasible and began asking questions as to why we could not use it. It was then that we were told that this was the main airstrip in the islands used to supply the US with cocaine from South America.
Sometime later we heard that one of the men who had been promoting this project was found dead on his yacht. I questioned some of the locals on the island about the airstrip and surrounding area. The many differing stories I heard were the basis for this book.
One area of particular interest to me were the stories centered around Buzzard Bay and how the local residents still feared what might happen to them if they stumbled on to something happening there. Of course the story in this book is fiction, based somewhat on fact. I will let the reader decide which is which.
ABOUT BOB FERGUSON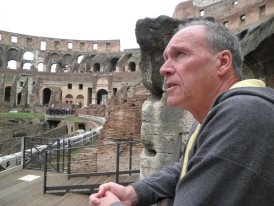 Bob Ferguson grew up in a remote region of Canada without electricity or telephones. He spent evenings listening to an old battery-operated radio and dreaming of faraway places. Later in life he traveled extensively. His travels to the Bahamas form the basis for
Buzzard Bay
. The author and his wife currently live in Fiji, where Bob writes and his wife teaches. Their children and grandchildren live in Canada.
Buzzard Bay Virtual Book Publicity Tour Schedule