Tell us about your current release.
Set in Denver, A Gangster's Garden is a story about a teenage boy killed in a botched street-gang hit, and what happens to everyone touched by the shooting.

The hit's intended target – gang leader Benicio de los Santos – has been planning revenge against his bitter enemy King Diaz since his own family was murdered two years earlier.

But when his plans to avenge his family fail and he instead takes an innocent life, he rediscovers his lost faith and searches for redemption.
Meanwhile, across town in a wealthy Denver suburb, Miguel and Carmela Rodriguez struggle to come to terms with their son's murder in the same neighborhood they fought so hard to overcome.

Both Miguel and Carmela go searching for answers on their childhood streets, but with very different outcomes.
What is the hardest part of writing your books?
For me,
the biggest challenge I faced in writing A Gangster's Garden was making my main character, gang leader Benicio de los Santos, a sympathetic figure instead of a stereotype.

How do you get readers to care about the leader of one of Denver's most violent Mexican gangs?

I did it by painting the framework of the world that he lived in:

the warped yet internally-consistent morals of his gang set, the pain and loss he feels for his slain family, the rules he's constructed about him to give his world a sense of consistency.

I try to show that he's not a simple street thug; he's a general, planning his enemy's destruction out of love for his fallen family.

And in his twisted world it all makes perfect sense.
Do you have critique partners or beta readers?
With A Gangster's Garden, I worked extensively with UCLA writing groups and through private workshops.

I found the entire process very helpful and, for me, quite freeing. There were many times I'd have ideas for character or plot twists and then put them down on paper; and the groups were great at letting me know what worked and what didn't.

I literally wrote hundreds of pages that ended up on the cutting room floor due to comments from workshops.

Things that don't work in a workshop will never work in a finished piece of work, and I found that insight very valuable.

What do you think makes a good story?
The characters! When I first began writing A Gangster's Garden, I had a very clear idea about the plot and the story I wanted to tell.

But once I began creating the characters, a funny thing happened:

the characters came to life and took over the story!

So at some point the book flipped, with the characters becoming real and deciding their own arcs and the book's plot.

It was a bit schizophrenic, as there were many nights when I woke up with multiple voices thrumming in my head, but I found that the plot really came to life because the characters were the ones who took me there.

My hope is that my readers buy into these interesting characters and will join them for the journey.

How do you develop your plots and your characters? Do you use any set formula?
My characters are pure fiction, but infused with interesting traits of people both real and imagined.

I'm very curious about people, especially about how their histories frame their moral character, and so I find myself constantly asking "why is that person the way they are?"

A person's relationship to their faith, for example, has the power to either build up or destroy them, and so I wanted to capture that struggle.

Benicio de los Santos abandoned his faith when his family was murdered, and yet he rediscovers it once his plans for revenge spiral out of control.

So I'm fascinated by a person's moral framework, and what affects it.
Describe what it's like to be an author in three words.
Immersive, schizophrenic, fulfilling.
What one word best describes you?
Use no more than two sentences. Why should we read your book?
Benicio de los Santos is as compelling a character as you'll ever meet:

he runs one of Denver's most violent street gangs, yet he reads Sun Tzu and prays for guidance from his murdered family. He has this uncanny ability to not only see the world as it is, but also how it will be when he's done shaping it.
Entice us, what future projects are you considering?
I'm currently working on the sequel to A Gangster's Garden, with a working title of Santos, Uncolored.

Benicio de los Santos is a charismatic and complex character, and I want to finish the journey he began in A Gangster's Garden.

I'm also working on a story of historical fiction, tentatively titled Stalking Zodiac.

Growing up near San Francisco, I was always fascinated by the Zodiac killer, made all the more compelling because he was never caught.

But what if someone knew who he was?
Is there one passage in your book that you feel gets to the heart of your book and would encourage people to read it? If so, can you share it?
"Have you ever felt the Devil in your soul?

Then you know the only power great enough to kill it is God, the Almighty.

So when people doubt my resolve, I tell them that I believe in the power of forgiveness, and of God, because I have seen the Devil."


It's a quote from Benicio de los Santos, during an interview with a reporter from The Denver Register.

I like the quote because it shows who he is deep-down inside: despite his violent past, he's still in touch with his path to God.

In fact, in his own twisted world, he appreciates God even more because of the violence he's participated in and witnessed throughout his life; God must exist, because the Devil most certainly does.

It's a turning point in the novel, because he's decided that he wants spiritual redemption, and this quote shows that his motivation to change is believable and consistent with who he is.
Do you have a Website or Blog?
Marc Cortez began his storytelling career in the third grade, when he entered a school writing contest and won with his story THE ANT WHO STOLE EASTER. Since then he has become a marketing writer and frequent blogger, leveraging his writing skills into success as a business executive and entrepreneur. With A GANGSTER'S GARDEN, he has turned his lifelong passion for storytelling into a full-length novel.
Mr. Cortez studied creative writing at the University of California, Los Angeles, and lives in California with his wife and two children. A GANGSTER'S GARDEN is his first novel.
Deep in the heart of Denver's Five Points varrio, an innocent teenage boy is killed in a gang-related shooting.
The intended target, gang-leader Benicio de los Santos, assembles his Latin Disciples into a Denver basement to plot their revenge. Does it matter that the hit planned for him killed an innocent boy? No. What matters is how careless his main enemy, the Sureño Daggers, have become. His cholo brethren demand the bloody removal of their enemy's chief, King Diaz, and the quick takeover of Sureño drug turf. But Santos recalls a lesson from Sun Tzu - that true generalship destroys rather than counters enemy plans - and so commands his soldados to do nothing. He'll avenge his wife and son's murder on his terms, when he decides.
Across town, a family struggles to come to terms with their son's murder. Businessman Miguel Rodriguez wonders what led his son down to the varrio in the first place, the very streets he'd fought so hard to overcome. He'd renamed his son precisely to distance him from their varrio past, despite the repeated protests of his wife Carmela. Wouldn't life as a white Julian Ross, mingling with Denver's elite, offer more than a brown Julio Rodriguez? They'd fought about the name change for years. And now, with Julian gone, Miguel realizes that the only way to find his lost son is to return to his childhood streets.
A GANGSTER'S GARDEN is a story of murder, faith and redemption, set in Denver's Five Points varrio.
~ ~ ~ NEW KINDLE FIRE HD GIVEAWAY ~ ~ ~
Pump Up Your Book and Marc Cortez are teaming up to give you a chance to win a new Kindle Fire HD!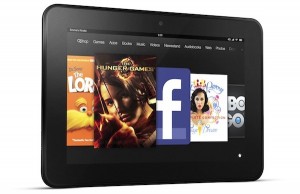 Here's how it works:
Each person will enter this giveaway by liking, following, subscribing and tweeting about this giveaway through the Rafflecopter form placed on blogs throughout the tour. If your blog isn't set up to accept the form, we offer another way for you to participate by having people comment on your blog then directing them to where they can fill out the form to gain more entries.
This Kindle Fire HD promotion will run from December 3 through March 15,2013. The winner will be chosen randomly by Rafflecopter, contacted by email and announced on March 16, 2013.
Each blogger who participates in the A Gangster's Garden virtual book tour is eligible to enter and win.
Visit each blog stop below to gain more entries as the Rafflecopter widget will be placed on each blog for the duration of the tour.
If you would like to participate, email Tracee at tgleichner(at)gmail.com. What a great way to not only win this fabulous prize, but to gain followers and comments too! Good luck everyone!
ENTER TO WIN!
Next Few Stops
Thursday, February 7
Monday, February 11
Wednesday, February 13