This is a Make-up tour stop
Author:
Sally Franklin Christie
Genre:
Suspense, Thriller
Peyton Farley has settled into a new life in southwest Montana.

Research and fact checking for a local newspaper is a perfectly safe job, or is it?

One morning, Peyton awakens and finds a strange man in lace up work boots who is bleeding out on her kitchen floor.

As Peyton calls 911 from her bedroom, someone is stealing the body.
Who is the dead man?

Why is he bleeding to death in Peyton's apartment?

Can one research assignment evolve into murder, embezzlement, betrayal and silence?
A very enjoyable read, this book easily held my attention and kept me guessing throughout.

Peyton finds herself living a nightmare when she tries unsuccessfully to help a mortally injured man who stumbles into her kitchen.
Peyton, however, is not your usual protagonist.

A young widow, she just moved into town six months earlier.

She is a quiet homebody whose best friend seems to be Emma, the cat she inherited when she leased her apartment.
I loved the overall tone and voice of this story; though I felt the author's practice of mostly referring to the various characters by their first and last names odd.

Still, this story moves along at a good pace, and there is enough character development to make each player stand out.

Peyton is plucky and determined; self-reliant and very creative.

I admired her courage even though I never really warmed up to her very much.

This is an engaging story that falls a bit outside the mold, and, for me, that makes it all the more pleasurable.
This book was provided to me free of charge by the author and Full Moon Bites Tours in exchange for my honest review.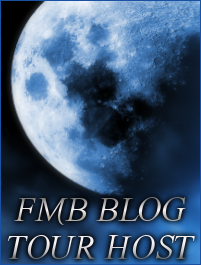 *Disclosure of Material Connection: I am a member of Full Moon Bites Tours and a copy of this book was provided to me by the author. Although payment may have been received by Full Moon Bites Blog Tours, no payment was received by me in exchange for this review. There was no obligation to write a positive review. All opinions expressed are entirely my own and may not necessarily agree with those of the author, publisher, publicist, or readers of this review. This disclosure is in accordance with the Federal Trade Commision's 16 CFR, Part 255, Guides Concerning Use of Endorcements and Testimonials in Advertising*